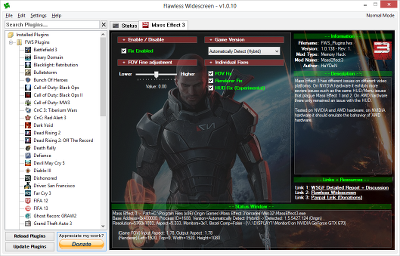 Mass Effect 3 Plugin
Flawless Widescreen was created in an effort to make it easier to craft fixes and patches to get games functioning correctly in UltraWide/Surround/Eyefinity gaming resolutions, often developers neglect these types of users leaving them to fend for themselves and find their own solutions, or in some unfortunate cases - live without the wonderful world of ultra-wide support.
With simplicity in mind, designed to be as simple as possible to use - simply select a supported game from the list, configure any basic desired configurable options and launch your game.
Repository based plugins/modules with autonomous updating and version checking.
Pure Win32 and C++ - fast with low memory utilization, C++ classes exposed to LUA for powerful and fast memory manipulation/injection, registry and file manipulation.
LUA and XML based plugins requiring minimal programming knowledge
SoftTH, AMD Eyefinity and NVIDIA Surround API's integrated for accurate display environment detection including bezel compensation, manually configurable fall-back for non-standard solutions.
Plugins are inherently open-source encouraging contributions and improvements from the community.
This is a list of the games currently supported by Flawless Widescreen, while the number of games will continue to grow as new games come out that do no include proper NVIDIA Surround and AMD Eyefinity support if there is a game you are desperate to see support for feel free to post a request in the Forums
Alien Rage
Battlefield 3
Blacklight: Retribution
Binary Domain
Bioshock
C&C: Red Alert 3
Child Of Light
Call Of Duty: Black Ops
Call Of Duty: Modern Warfare 3
Castlevania: Lord of Shadow 2
Dead Rising 2
Death Rally
Diablo III
Dishonored
Far Cry 3
Far Cry 3: Blood Dragon
FIFA 13
Ghost Recon Advanced Warfighter 2
Inversion
Kingdoms of Amalur: Reckoning
Killer Is Dead
Injustice: Gods Among Us
Mass Effect 2
Mirror's Edge
Metal Gear Rising
Ninja Blade
Murdered: Soul Suspect
Orcs Must Die 2
Resident Evil 5
Resident Evil 6
Remember Me
Ridge Racer Unbounded
Skydrift
Sonic Generations
Sonic & Sega All-Stars Racing Transformed
Star Wars: KOTOR
Supreme Commander 2
The Lord of the Rings: War in the North
The Witcher 2
Tomb Raider: Underworld
Tomb Raider: Legend
Transformers: War for Cybertron
Tribes: Ascend
Warhammer 40K: Space Marine
Watch Dogs
YAIBA: Ninja Gaiden Z
Bunch of Heroes
Bulletstorm
Bioshock 2
C&C: Tiberium Wars
Contrast
Call Of Duty: Black Ops II
Call Of Duty: Ghosts
Dark Void
Dark
Darksiders
Dead Rising 2: Off The Record
Deadpool
Defiance
Devil May Cry 5
Flashback
Driver: San Francisco
Enemy Engaged 2
FIFA 12
Guild Wars 2
Grand Theft Auto III
I Am Alive
Jet Set Radio
L.A. Noire
Mass Effect 1
Mass Effect 3
Mini Ninjas
Resident Evil 4
Orcs Must Die
RAGE
Resident Evil 6
Singularity
Starcraft II
Sonic and Sega All-Stars Racing
South Park: The Stick Of Truth
Spec Ops: The Line
Sanctum 2
The Amazing Spiderman 2
The Elder Scrolls V: Skyrim
The Risen 2
The Walking Dead (Series)
Tomb Raider: Anniversary
Transformers: Fall of Cybertron
Unreal Tournament 3: Black Edition
Viscera Cleanup Detail: Shadow Warrior
Wolfenstein: The New Order
Zeno Clash 2
Latest Release
Current Version is 1.0.15 - Build Date 30/05/2014 NZST [Changelog]
Windows (all versions)
x64 Installer Package (Recommended)
MD5:
210fa673c398ee70ee827546fbf32c55
x64 ZIP Package (Portable)
MD5:
5e541e5438ee59515cf89e6fc9943e25
x86 Installer Package
MD5:
53a9428181ac3b649a0bc39e5dc2082a
x86 ZIP Package (Portable)
MD5:
691765466b6b6f8b16c33c68721679cd
Linux
A Linux build may be available at a later time - several people have reported Flawless Widescreen runs very well under WINE however mileage may vary per plugin and game.
Installation Prerequisites
Because Flawless Widescreen is written in C++ - the re-distributable package is required to be installed on your system, while it's likely already installed due to the vast number of applications already utilising it, if you do receive errors regarding missing DLL's such as msvc*100.dll you likely need to install this package - NOTE: You may require both x86 and x64 runtimes.
Please consider donating...
Flawless Widescreen is completely free and probably will likely remain that way in the future, you are not obligated to contribute in any way - however please consider the many hours that are spent per game to develop fixes, hardly ever do we get lucky enough that a previous plugin covers a new game!